Screen doors are a part of many houses. But there's no reason to stick with the boring old standbys when so many decorative and attractive screen door designs are out there. Whether you want to add some style to an outside door or open up space on interior doors, there are many options to choose from, for any décor.
This is a beautiful example of an interior screen door, perfect for a nursery or child's room. Parents can peek inside while baby is sleeping or while older children are enjoying playtime. This would also be a lovely door to separate kitchen and dining room, especially in a country or beach house.
Plain metal is so yesterday. Get a little or a lot fancy with artistic designs to dress up exterior screen doors. This one uses simple circle patterns for scrollwork that moves and flows, yet still pairs beautifully with the rich wood exterior.
Metal isn't the only option for screen doors anymore, either. This wooden screen door is both rustic and modern, with straight lines and deep-toned wood. The lines work beautifully with the latticed porch top and create an outside area you'll want to spend the summer enjoying.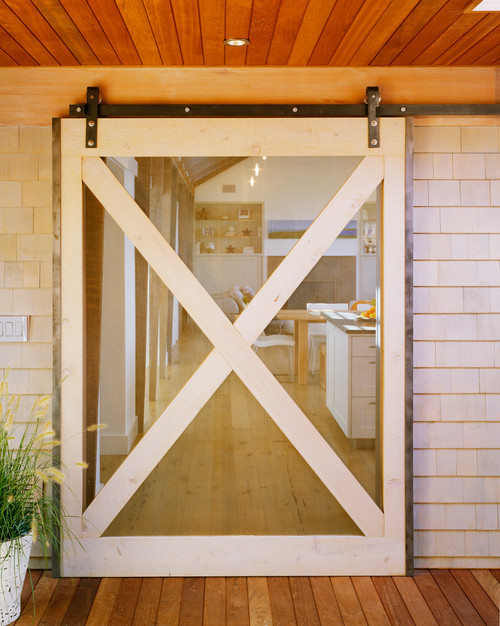 Even large barn doors can get the decorative screen treatment. This utilizes the classic shape of barn door wood slats while still allowing for air and light. It keeps out what you don't want of the outdoors and invites in all that you do.